Welcome HOTEL GREEN
the hotel green shigakogen is your best choice to enjoy sightseeing and skiing, snowboarding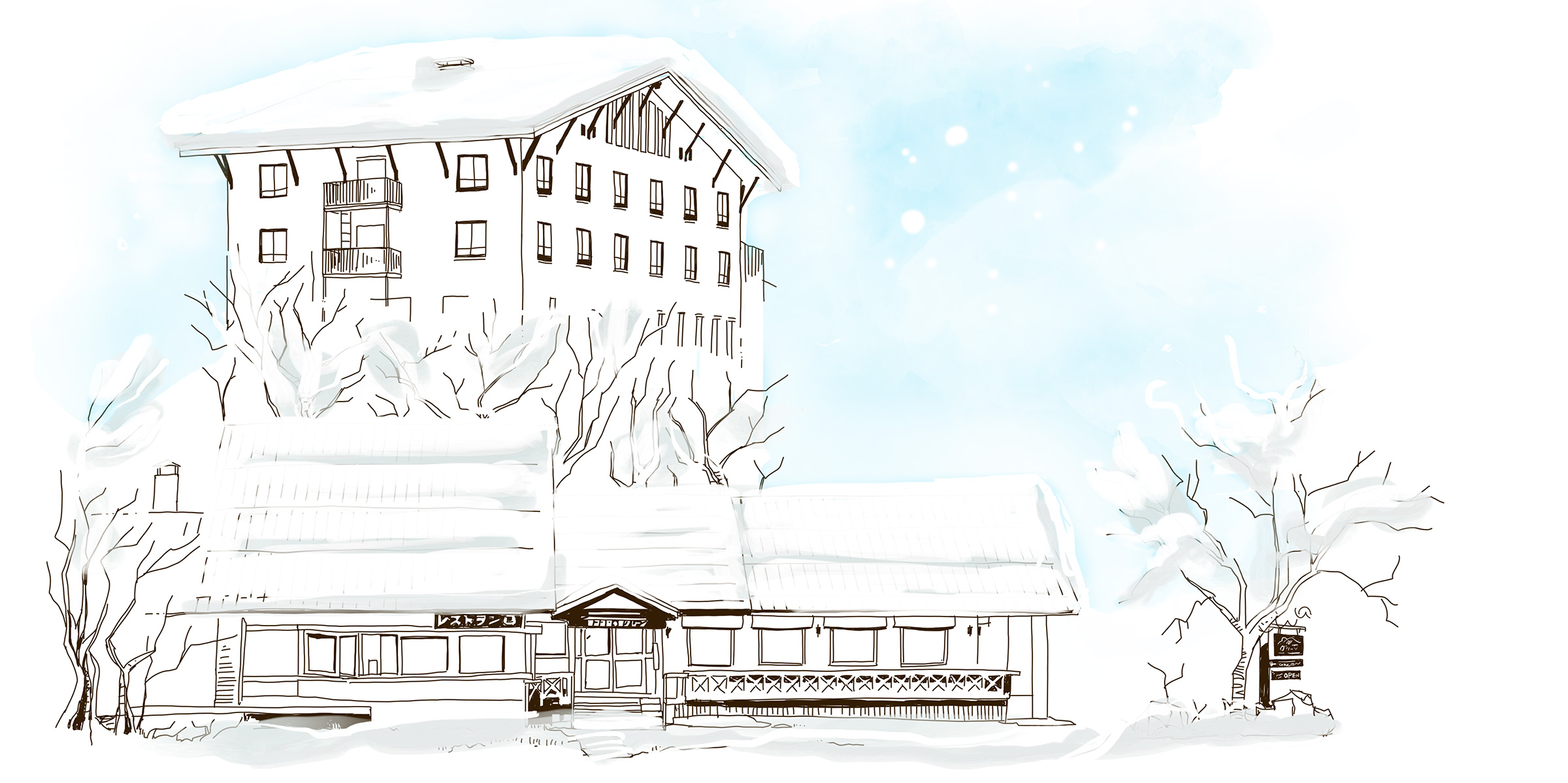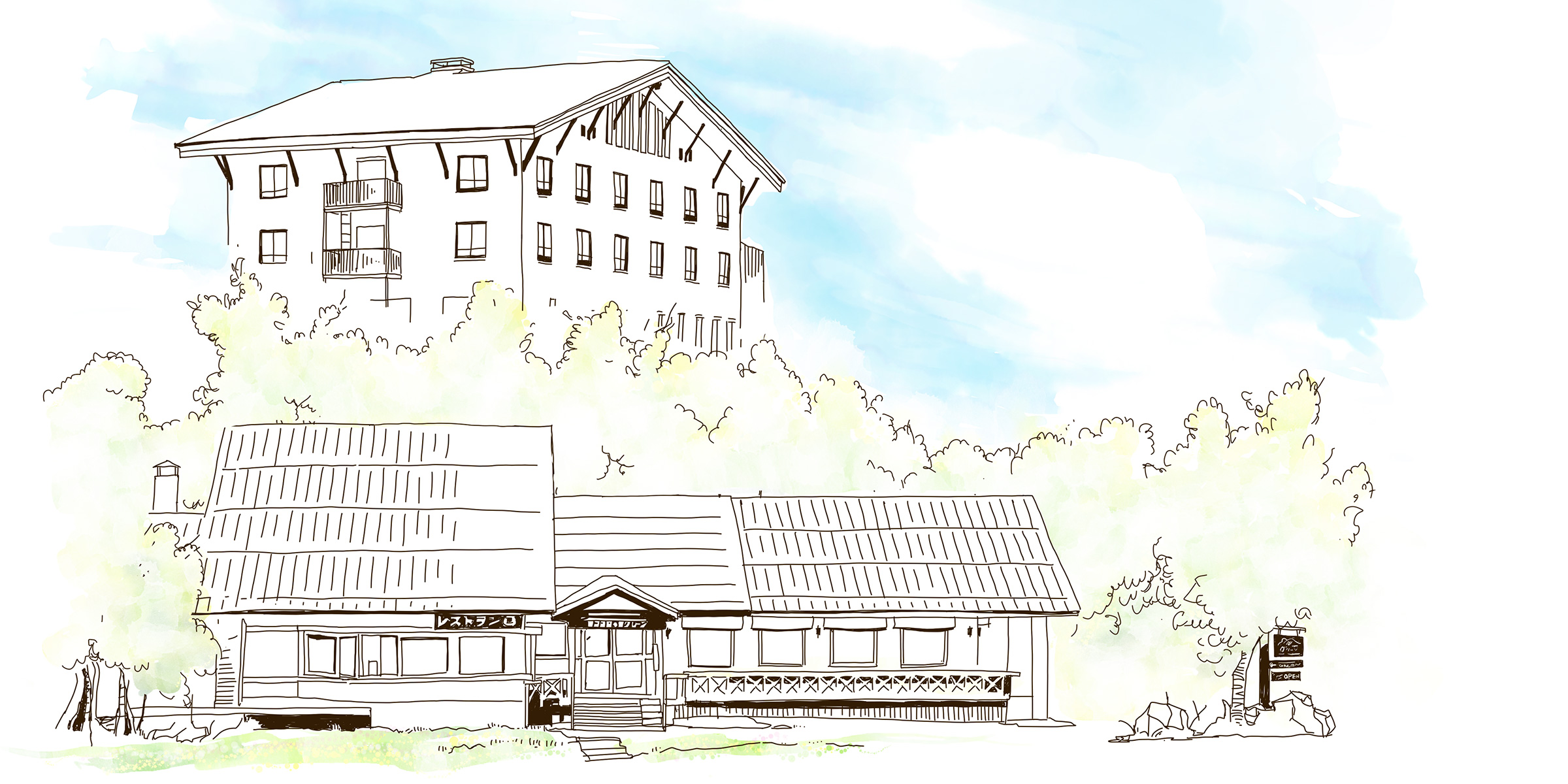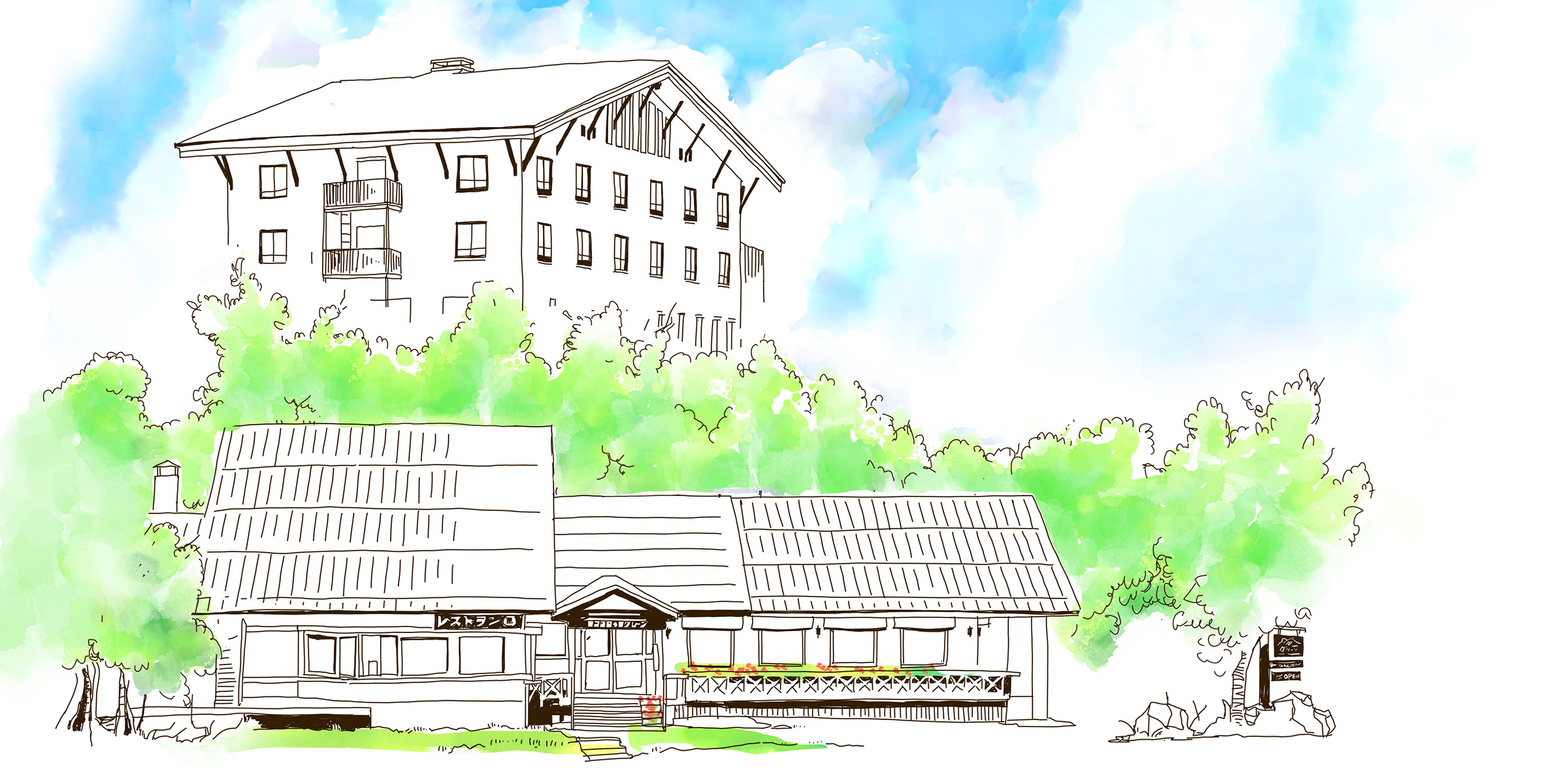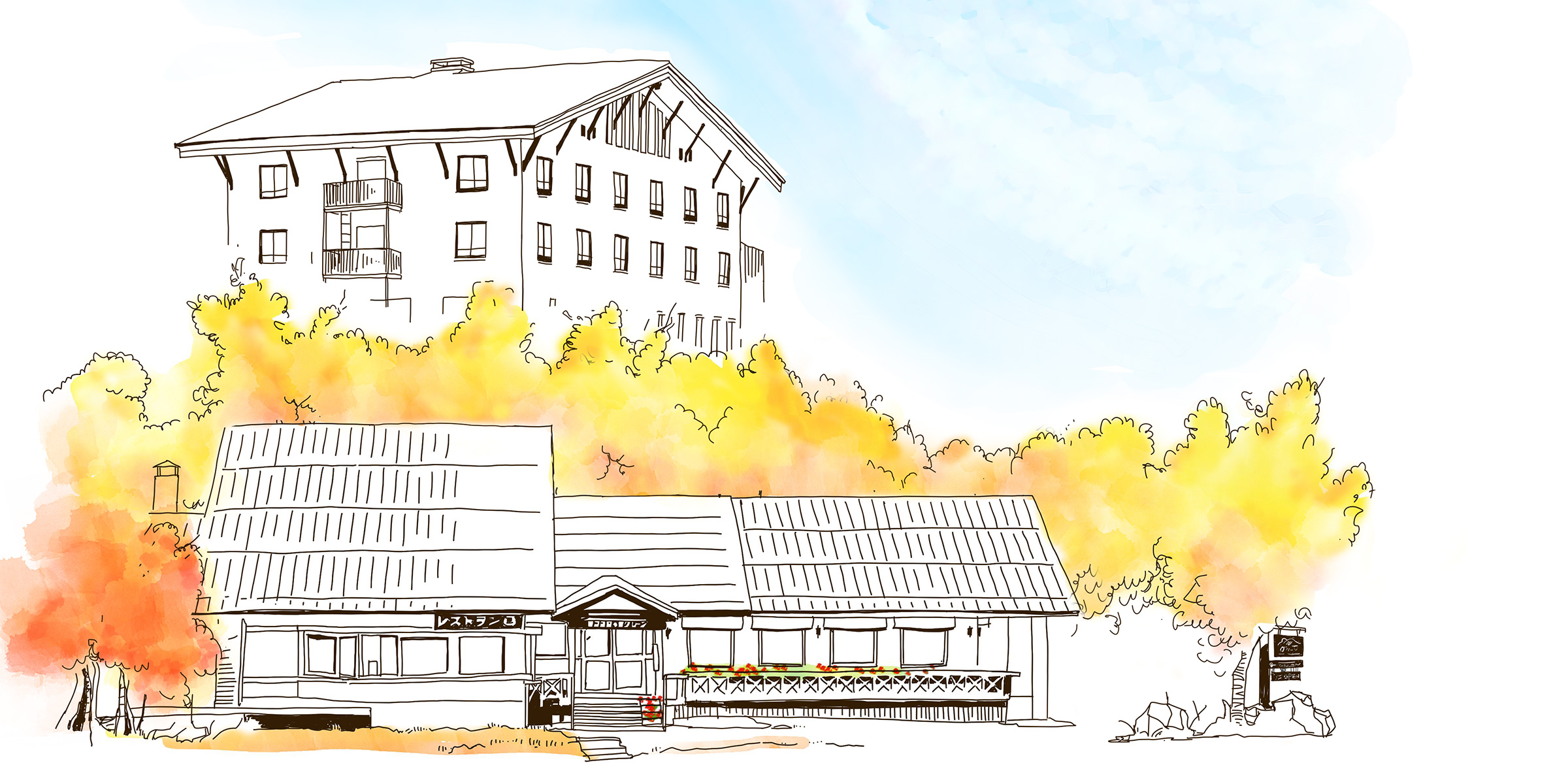 Accommodation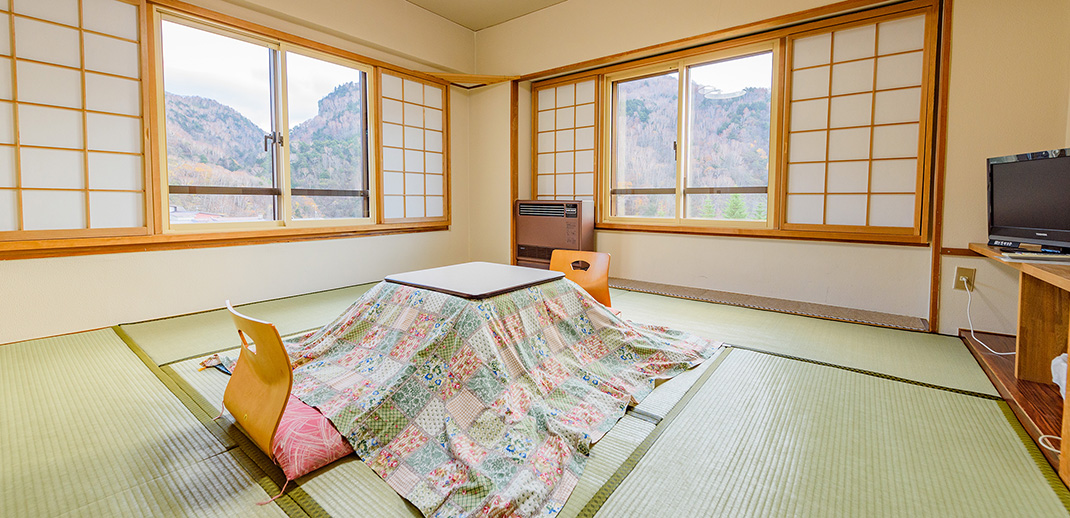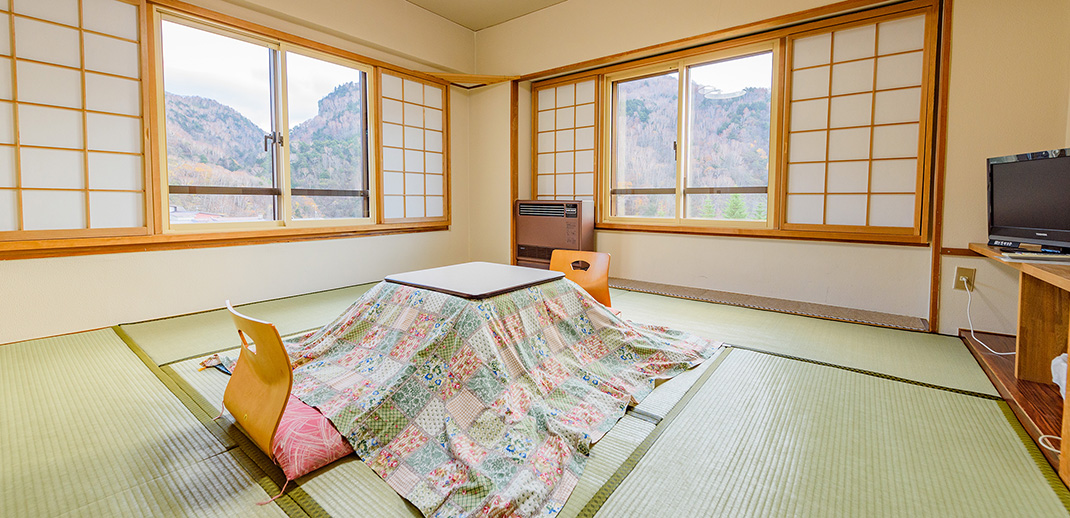 Guest room
23 rooms(Japanese-style)
Since the room is located at higher place, you can have a great view!
Smoking is not allowed in all guest rooms.
Facilities

Japanese-style of 8-mats, TV, washing stand, toilet

Amenities

ooth brush, towel, bath towel, tea set,Yukata(Japanese bathrobe)
Check-in & out time
Check-in

14:00

Check-out

9:30
Breakfast ・ Dinner
We offer homemade dishes that incorporate local ingredients.
In spring season, you will be able to enjoy some Japanese dishes with seasonal foods,
such as special sprout and root bend bamboo.
In summer season, we would like to serve light taste Japanese dishes with some highland vegetables.
In autumn season, you will be able to enjoy some Japanese dishes with seasonal mushrooms and herbaceous plants.
In winter season, we would like to serve home-style western cooking in set meal.
There are cases when we may not be able to serve seasonal foods depending on the situation.
For weekday in winter season, we may also serve Japanese dishes.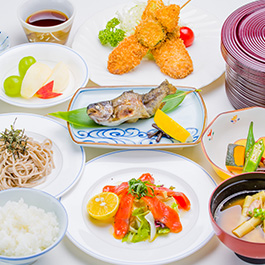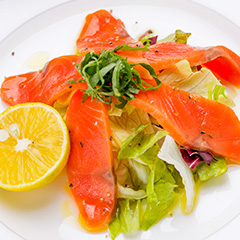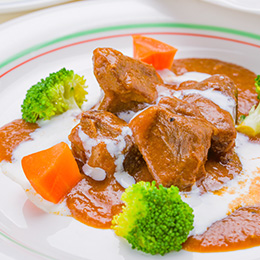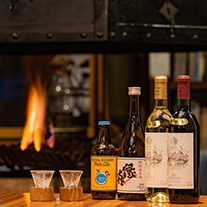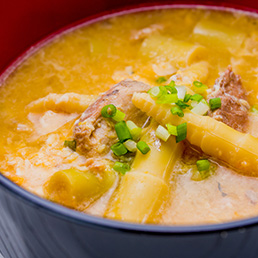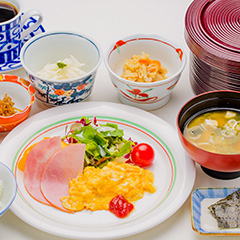 Facilities
The main building

Front desk, restaurant, lounge, shop and locker for ski and snowboard.

Annex

23 guest rooms(Japanese-style), 2 bathrooms(Onsen), recreation room, changing-room and elevator installed.

Capacity of guest

70 persons

Car parking

We have a private car parking for 7 cars, and there is Sunvalley free public car parking for 150 or more cars.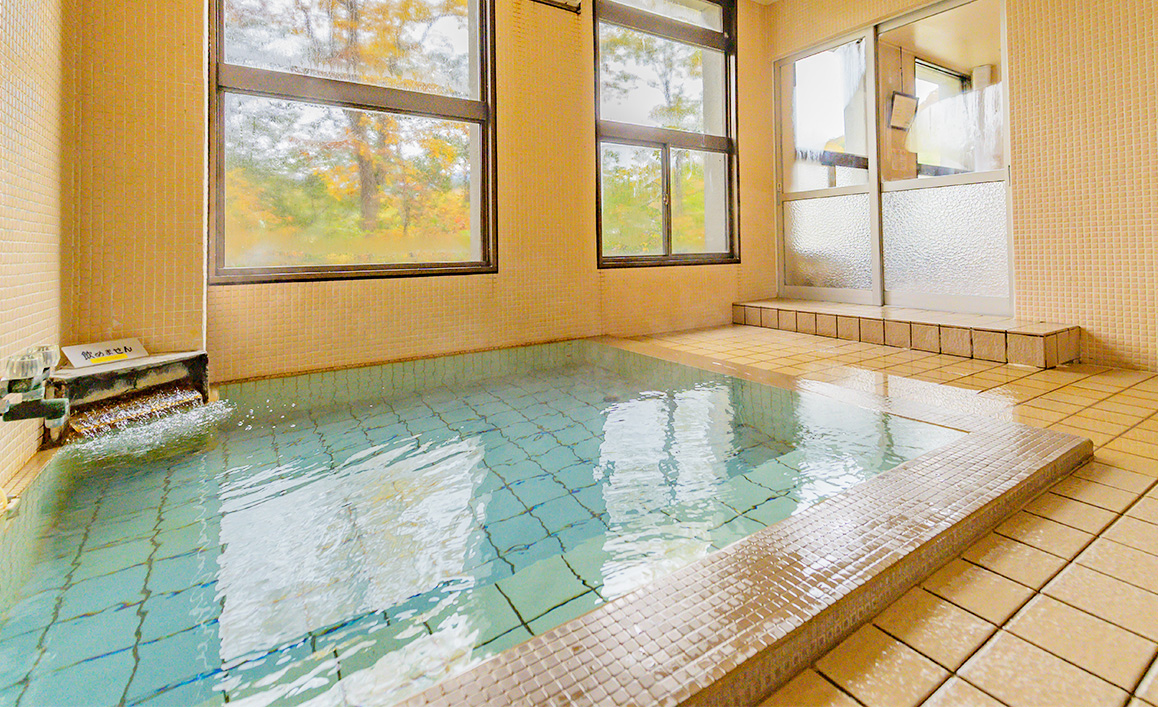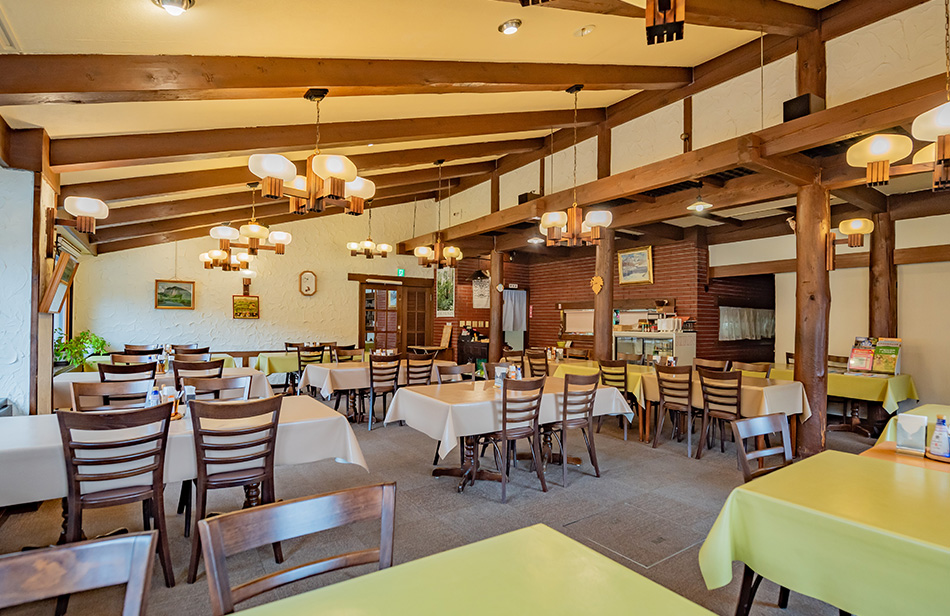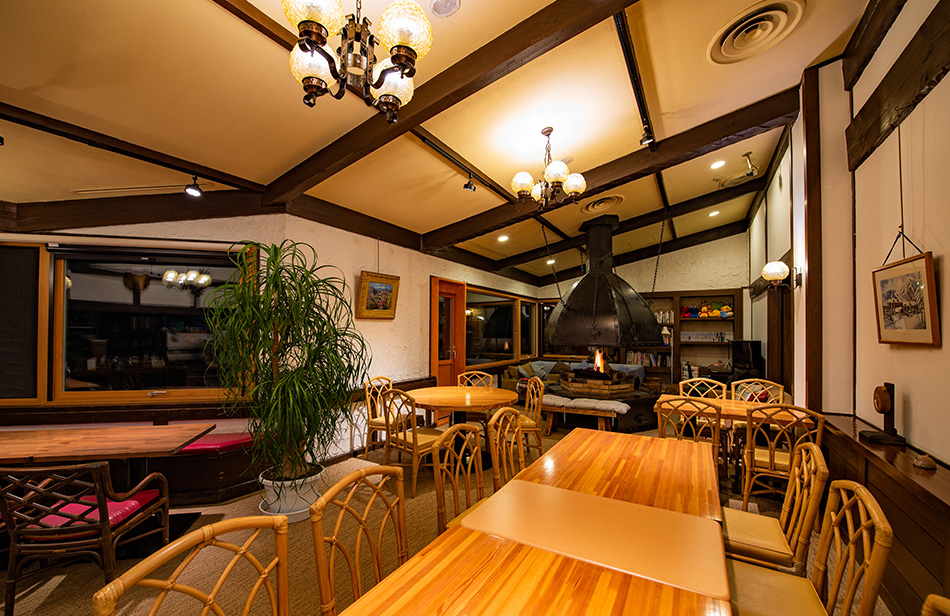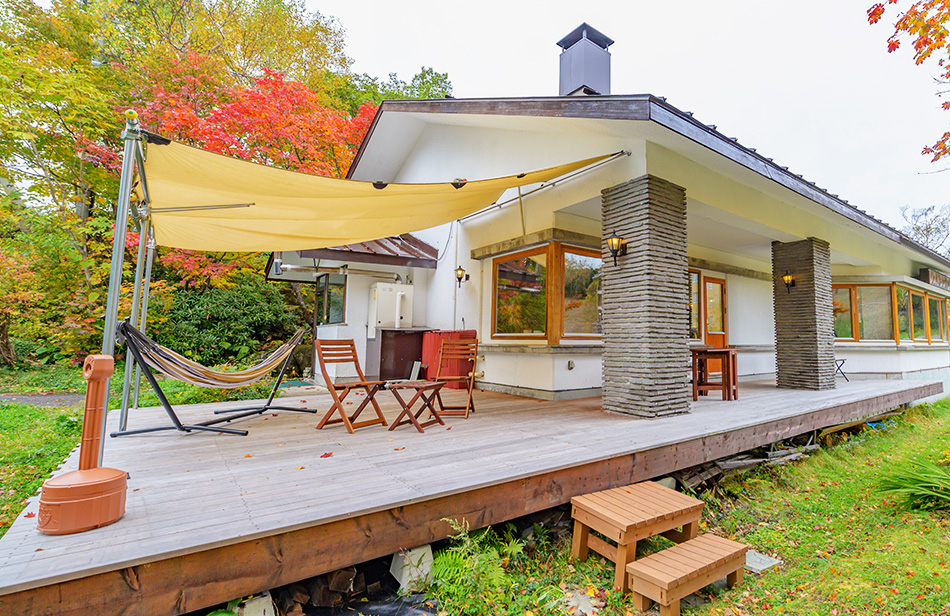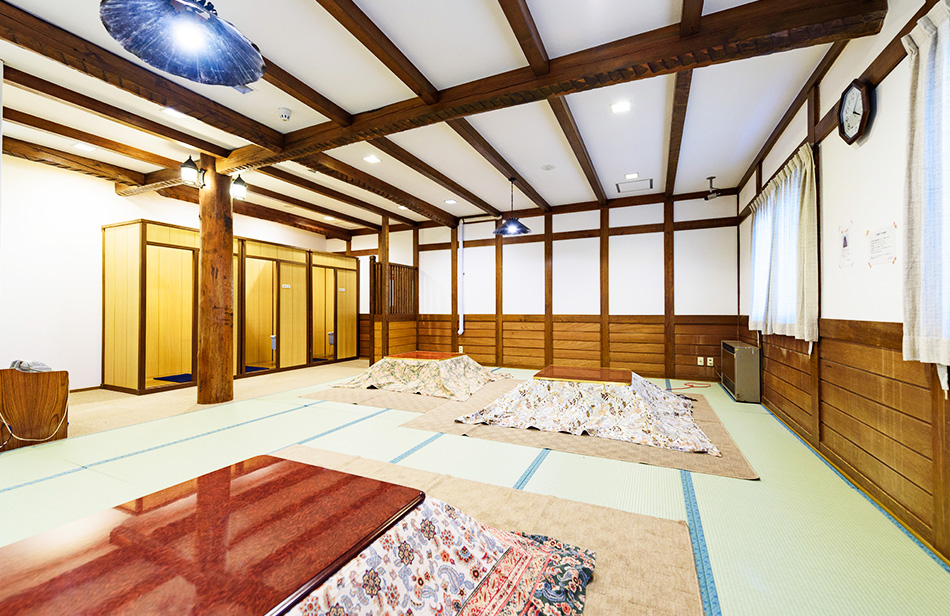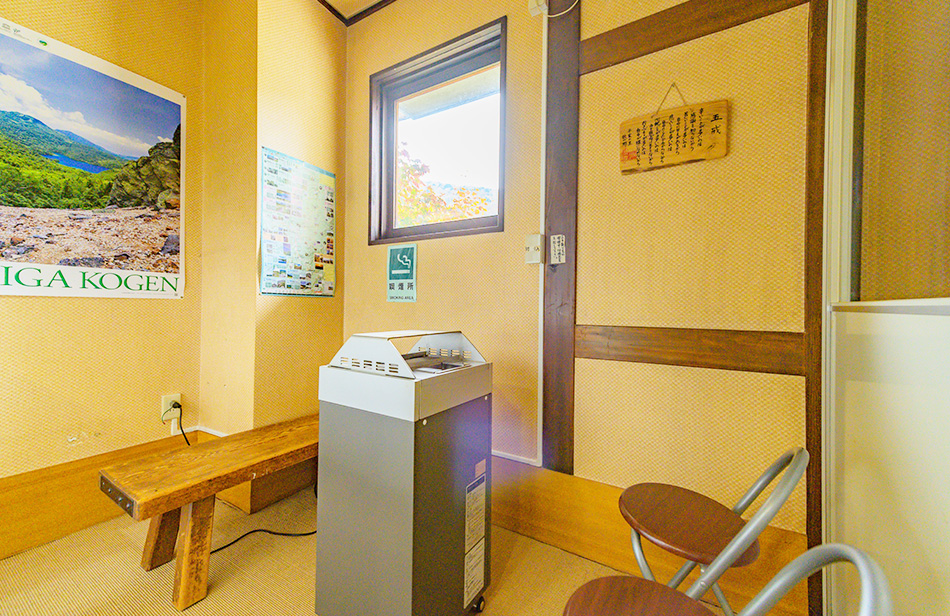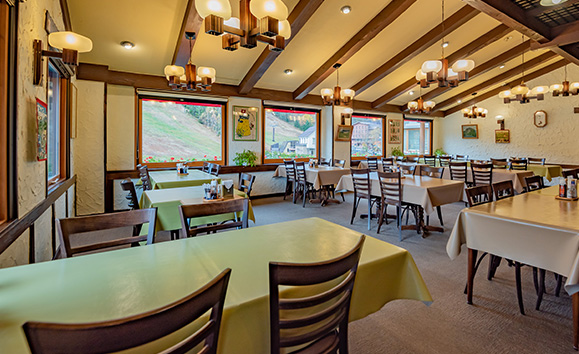 Located along the Route 292, and you can have a nice view for Sunvalley Ski Area from the window. You are welcome not only for meal, but also for just having some drinks.
Smoking is not allowed inside both restaurant and cafe.
FAQ
About the reservation and stay

Q

Can a single person stay?

Yes. Single occupancy is available at an additional charge
During the ski season, on Saturdays, long weekends, and the New Year season, single occupancy per room is not available.

Q

Is group reservation available?

A group number above 20 people can not be accommodated.

Q

When does the reservation for the ski season open?

Reservations will be accepted from the 1st of August.
Excluding the year-end and New Year holidays and consecutive holidays
(Please refer to the separate notice)

Q

Can I stay with my pet?

Unfortunately, pets are not allowed to accompany guests.

Q

Can I choose the room?

All of our rooms are same size, Japanese-style rooms with 8 tatami mats.
We will consider your room preference, however, we cannot guarantee your request.

Q

Can I send my luggage before check-in?

Yes. You can send your luggage before check-in.
Please, make sure to include your name after the recipient's address "Shigakogen no ie Green".
Please refrain from sending the luggage more than a week in advance.

Q

Is there a parking lot?

There is a parking space for 7 cars at the front of the restaurant.
Also, there is a free large parking lot right next to the road.

Q

Is there a petrol station nearby?

There is no petrol station in Shigakogen national park.
Please make sure to fill your petrol tank enough before visiting.

Q

Is there a convenience store or supermarket nearby?

There is no convenience stores or supermarkets in Shigakogen national park.
However, there is a store where you can buy light snacks at 'Yamanoeki' station in the Hasuike area.

Q

Do you accept credit cards?

Credit cards can only be used for settling the accommodation charges.
Kindly pay with cash at the restaurant and other facilities.

About the hotel facility.

Q

Is the public bath a hot spring?

It is a simple sulfur hot spring originating from the Nishi-hoppo source.

Q

Until when can I use the public bath ?

It's open for 24 hours, however, for accident prevention, we recommend using the public bath between 6:00 AM and 11:00PM.
From around 8:00AM for about 2 hours, the public bath is not available due to cleaning.

Q

Can I smoke inside the building?

Smoking is prohibited inside the building. Please use the designated smoking area on Floor B of the accommodation building.
In-room smoking is strictly prohibited. Please refrain from smoking.

Q

Can I use the cafe and fireplace?

Yes. Please feel free to use the areas until 10:00PM.
There are illustration and comic books as well as a piano available for use.
You can also bring in beverages and food if you'd like.
Occasionally, the cafe is used for breakfast and dinner seating.
In that case, the cafe will not be available for use during preparation and serving hours. We appreciate your understanding.

Q

What time is the meal served?

Dinner is at 6:00PM and breakfast is at 8:00AM.
If you are unable to make the serving hours, please inform the front desk.


Q

Can I bring in food during breakfast and dinner ?

Unfortunately, we are not accepting bringing in food during this hour.
Please let us know in advance if you need to bring allergen-free food.
If you would like to bring your own alcohol, an additional charge will be applied.

Q

Do you have an event or meeting room?

Unfortunately, we do not have a space available to accommodate large groups.
Please feel free to use the cafe as a shared space with other guests.

Q

Do the rooms have air conditioning ?

We do not have air conditioning throughout the entire building.
Instead, we encourage you to enjoy the refreshing natural breeze by opening the window.
Additionally, we have a circulator rental available upon request.

Q

Can I order a lunch box?

Yes. It is possible to order the lunch box. Please place an order by 6:00PM the day before.
* Please note that lunch box service is not available during the ski season.

Q

Do you have laundry and drying machines on premises?

Yes, we have one of each laundry and drying machine available for use (Charges apply)

Q

Do you have a luggage storage service available before check-in and after check-out?

Yes. We offer luggage storage service. You can leave your luggage at the front desk.
During the ski season, you can also use the communal resting room where you can store your belongings or change the clothes.

Q

Can I deposit my valuables?

Please use the lockers for valuables on the 1st floor of the main building and the 1st basement floor of the annex.
Because the number is limited, Valuables can also be kept at the front desk.

Additional information.

Q

What kind of activities can I do during the off-season?

During the off-season, you can enjoy activities like hiking and trekking. Also, you can relax and appreciate the vibrant, lush greenery adorned with beautiful mountain flowers in Shigakogen's breathtaking nature.
Additionally, there are various events such as the TENKU FES(Stargaze Festival), college concerts(Classic music concert), craft fairs and more. For further information, please follow the link below.
Click here for details (Shiga Kogen Tourism Association)

Q

When do the leaves start to change?

The Sun Valley area usually reaches its peak foliage around mid-October. (Ichinuma is around early October.)
Due to its varying elevations of Shigakogen, the higher areas begin to change color around late September.

Q

Can I rent skis and a snowboard?

We offer ski rentals which include a set of skis, boots, and poles.
Individual item rentals are also available. However, ski wear and winter accessories rentals are not available.
Pre-booking is not accepted for rental service.
Please inquire at the front desk upon your arrival.
Please be aware that we have a limited quantity of rental items available.

This rate is exclusive to hotel guests.

(Updated in 2023)

| 3 pieces set | half day | 1day | 1.5day | 2day | 2.5day | 3day |
| --- | --- | --- | --- | --- | --- | --- |
| Adult | ¥2,500 | ¥3,000 | ¥4,500 | ¥5,000 | ¥6,500 | ¥7,000 |
| Child | ¥1,750 | ¥2,100 | ¥3,150 | ¥3,500 | ¥4,550 | ¥4,900 |

We do not offer snowboard rentals.
However, there are rental shops available at various locations within Shiga Kogen. Please follow the link below for more information.
https://shigakogen-ski.or.jp/english/

Q

Do you have a waxing table for guests to use?

Yes. We have one waxing table available. Please use it with the cooperation of everyone.
ACCESS
The Hotel Green Shiga Kogen
7148 hirao,yamanouchi-machi, shimotakai-gun, nagano-ken 381-0401 Japan
TEL:+81-(0)269-34-2552
  FAX:+81-(0)269-34-2925
Access from Narita Airport, Haneda Airport
Haneda Airport
Narita Airport
Train
Bus
Express Bus
Taxi
Tokyo Sta.
Hokuriku Shinkansen
Nagano Sta.
Nagaden Express bus
HOTEL GREEN
By Shinkansen (bullet train)
Go through Tokyo Station to Nagano Station using the Shinkansen. From Nagano Station, get off at the "Sun Valley" bus stop on the Nagaden bus "Express Shiga Kogen Line"
Hokuriku Shinkansen
Express Shiga Kogen Line
By Taxi or Snow shuttle
Reservation-based shared taxis are available. You can go directly from the airport to the hotel.
Chuo Taxi
Nagano Snow Shuttle
By Bus
This is a night bus from Narita Airport. Since you will arrive at Nagano Station early in the morning, you need to be careful in winter.
In the case of Haneda Airport, there is an express bus via Tokyo Station or Shinjuku.
Overnight Express Bus NaritaーNagano
Sightseeing
The hotel is close to the bus stop so it is convenient to go anywhere.
Jikokudani snow monkey park is 15 minutes away by bus.